Private GP in London

Private Consultation / GP / Doctor
Book Now
Medical Express Clinic is a leading private GP practice in Harley Street, London. Our friendly and experienced private doctors provide convenient, affordable and above all excellent private GP services in the city of London. We offer a range of medical services to keep you and your family in perfect health. Enjoy the simplicity of managing all your health concerns in just one place. We will do our best to arrange an appointment with our general practitioner for any of the following services.
Our Private GP Services include:
Some common conditions dealt by our private GPs include the following:
Neurocare for both children and adults
Specialist paediatric services
Medico-legal reports
Phlebotomy (for patients with existing nutritionists/practitioners)
Complementary and alternative medicine
Why Choose Private GP services with Medical Express Clinic
Same day Private GP appointment in London whenever you need
At our private GP clinic in London, you can book a same day private doctor appointment whenever you need. With extended hours and weekend opening, we are helping patients to get proper access for high-quality health care according to their convenient time. We are centrally located in Harley Street and you may simply walk into our clinic as per your timing though we recommend giving us a call beforehand to check our waiting time.
We are open seven days a week with evenings and home visits available by special request during the weekdays. You can come to see our private GP in London for a wide range of scans and diagnostic tests. Our goal is to treat you as soon as possible.
Highly Experienced Private GPs and Doctors

At Medical Express Clinic, our experienced private doctors in London, who have a passion for helping their patients, whatever their healthcare needs.
The patient can visit the same doctor when available. There aren't extra charges for writing the prescriptions, sick notes. After the appointment, you will be provided with detailed consultation notes that you can share with your NHS GP.
Personalised Care

Our team of private doctors provide personal and friendly attention to all the patients across London. They are committed to ensuring your optimum health. Rest assured, a team of highly-qualified doctors in Harley Street can treat any and all health conditions. If there's a problem, your GP will provide an accurate diagnosis and effective treatment. If necessary, they can even immediately refer you to one of our experienced consultant specialists for same-day specialised treatment.
Private GP Consultation Pricing:
'Under the Weather' Consultation : £100
Short consultation of up to 15 minutes for minor health issues - Patient must fix their appointment and return a completed health history questionnaire before attending.
Unlimited Consultation : £150
Follow up consultations are £100 unless otherwise stated.
Our general practitioners takes a complete health record and examination to get a accurate diagnosis of your condition. They combine their observations with decades of knowledge and experience and provide the relevant diagnostic, tests and scans. You do not have to register with us, as we welcome visitors to the country as well as single-visit patients. We do not dilute the quality of our service by offering video consultations or phone consultations to new patients.
Our Private GP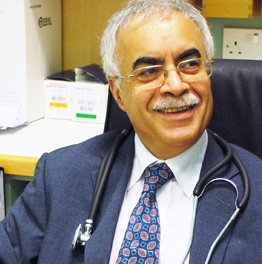 Dr Mohammad Bakhtiar
Lead Clinician and Director of Governance
Registered Manager, General Practitioner
view details
Private GP FAQs

A private GP is a general practitioner that works on private basis and does not directly work with the national health service.
I'm Looking for a Private GP Near Me. Can you help?
If you are residing or working in and around London area, use Google to search for a "private doctors Near me". You can find us at 117a Harley Street which close to the tube station is Regent's Park.
What are your opening times?
We are open 7 days a week, till late on weekdays and half day weekends. We also offer Walk-in, Same day appointment.
Monday-Friday
9.00 - 21.00
Saturday-Sunday
10.00 - 14.00
How much does it cost to see a private doctor in London?
We charge one flat fee of £150 for a consultation which is unlimited in time and scope, so you can talk to your GP about any and all health problems.
Will my health insurance cover this?
Health Insurance coverage is accepted in specialist referral cases and very few GP consultations are covered by your insurer. We advise you to check with your insurer if blood tests or referrals are covered.
How can you get a Private GP appointments soon?
If you want to schedule a GP appointment or need help to search for the right practitioner, feel free to call us or leave us a message. Our friendly team of experts will get back to you and understand your healthcare concerns, before providing suitable options for your need. You may visit our CQC Register clinic or get in touch with the right practitioner according to your convenient time and at an affordable price.
Why should you go to the best private GPs in London?
It is important to choose the right private GP in London since they will give you access to different healthcare treatments for various medical illnesses. This way, you can pay for the services that you receive. Private health services cover different things that include scheduling an appointment with the doctor, psychological and physiotherapy services.
When should you call out of hours doctor for your child?
According to the NHS, these services are provided according to your convenient time. Other than surgery hours, you can call the clinics, however, you will be directed for out-of-hours service. The timing for out-of-hours usually begins from 6.30 pm to 8.00 am for the weekdays and throughout the day for weekends as well as bank holidays.
Will you require the referral of a GP for private treatment?
Not actually. You can avail the treatment from your professional without the reference by a GP. According to the BMA, it is considered to be the suitable practice for the ones who are referred to perform certain treatments by the GP. This is because they are aware of about your health record and can suggest if you need a referral.
How can you get the referral from your doctor?
At first, you will have to go your primary care physician who will assess your concern before making a referral to the specialist. After this, you need to verify the referral information and your insurance policy. Thus, fix your private appointment with the specialist.
Will the GP charge for providing a private referral?
If you want to go to a private specialist, then you are advised to get the referral from your GP. The GP usually do not charge to their NHS patients for making the private reference.
How long does an appointment last?
A consultation usually takes 15 to 20 minutes in normal cases. If you have a more complex or long standing issue it may take longer.
What if I need to cancel my GP appointment?
Please call the practice as soon as you find you may not be able to attend your appointment. You may be able to reschedule on the same day, otherwise the appointment can be made for another date.
Can Organisations or Companies plan on behalf of their employees or clients?
Yes, appointment is possible by providing the personal information of the individual. If needed any additional information will be taken upon your visit at our clinic.
Yes, we treat people of all ages and can provide referrals to a paediatrician if more than a GP consultation is required.
Should you pay to visit a private doctor?
Our doctors will tell you if you need to visit a specialist and pay for it privately. In such a situation, he will write a referral letter to the private consultant and explain about your health condition.
What do you need to registered with a doctor?
Legally, you do not need any documents to submit with a GP. Some GP surgery may ask for your NHS card and proof of address (usually 1 or 2 bills with your name on it) in order to prove that you live in the locality.
Can a private doctor refer to NHS?
Yes they certainly can. Depending on your issue, we do recommend that you stick with the same private doctor because they better know your concerns and that would typically speed up your treatment and reduce any chances of potential delay in treatment.
Can I get private treatment on the NHS?
If your GP decides that you need to see a specialist, you can request to have treatment from a list of private hospitals or clinics. You will only pay for extra personal items, just as you would in any NHS hospital.
What is a GP and what is their work?
A GP may not have specialization in a specific area of medicine. In general, a GP offers full medical care that includes immunizations, physical assessments and evaluate as well as treat different conditions such as injuries and illnesses.
What is a routine doctor's appointment?
Routine appointments are standard appointments for a routine check-up where the doctor can do tests on you, including blood and urine tests to determine your overall current health.
What is an emergency GP appointment?
It is just like a regular appointment; however, it is urgent and can be planned for the same day if necessary.
Urgent GP appointment reasons:
Most commonly, urgent appointments to the GP are from suffered injuries during work or play sport, however, it can be anything.
Will my GP have access to my NHS health record?
No, but your GP discuss your health records in the consultation and ask you about any regular medication or pre-existing conditions.
Will you update my regular NHS GP?
We do not share your personal records with anyone. We will update you with the information in whatever format you prefer (digital or hard copy) and you can share this information with another healthcare provider if you choose to do so.
Do you provide emergency treatment?
No, we can deal with non-urgent care on the same day but in case of an emergency please dial 999.